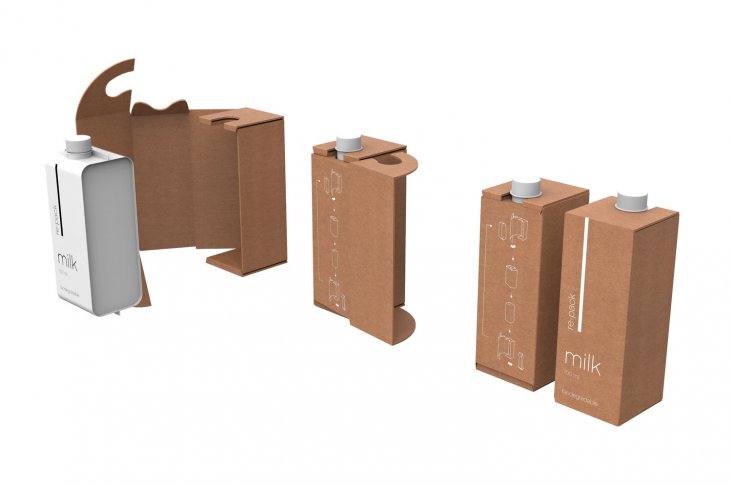 The Re-Pack carton comes in two parts. An outer "jug" made from cardboard, plus an inner bio-plastic bag which contains the milk. Unlike regular Tetrabrik-style cartons, which need to have their parts separated before recycling, and then the actual carton processed with lots of water to reclaim its materials, Makio's design is pre-separated. You just toss each part into the appropriate recycling receptacle when you're done.
The bag-in-a-jug design is familiar in many parts of the world. According to an article on fastcompany.com a good chunk of Canada has used them for many decades now. There, you buy multipacks which contain several bags, then drop them into a jug and pierce the bag to use it. The idea is sound, but there are drawbacks. One is handling the bags themselves, which are as hard to grapple and to stack as you might expect. Another is that the bag can fall out of the jug, or you can just make a bad cut when you open it and have to put up with a dribbling bag until it's empty.
The design, by Makio along with Maira Kondo, Lau Bellesa, Akira Mizutani, and Mariana Mascarenhas of the University of Sao Paulo, solves both problems by locking the bag into the carton by way of a folding closure. The plastic inner also comes with its own screw-top nozzle, which beats the Canadian bag in another way–it's resealable. And because that bag and the nozzle are made of the same plastic (a corn-derived bioplastic), recycling is still easy.