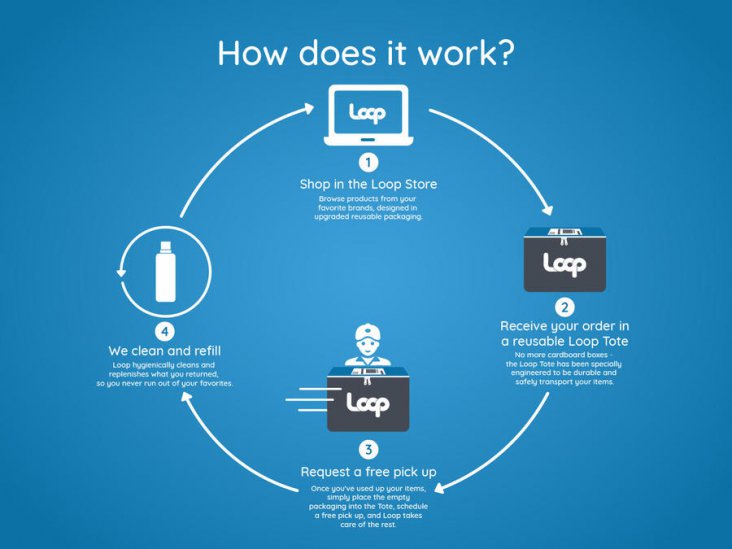 In late February at the World Economic Forum, in Davos, Switzerland, Tom Szaky, Founder and CEO of TerraCycle, Inc., unveiled what could be one of the most significant and disruptive advances in packaging to date, according to an article on packworld.com. Along with a number of the world's largest Consumer Packaged Goods companies and retailers, TerraCycle has created Loop™, a first-of-its-kind shopping platform that will enable consumers to responsibly consume products in customized, brand-specific, durable packaging that is collected, cleaned, refilled, and reused.
The platform will launch in France and in the northeastern U.S. this spring as a pilot, offering more than 300 products in reusable packaging from such heavy-hitters as Procter & Gamble, Nestlé, Unilever, PepsiCo, Mondelēz International, and Danone, to name a few, as well as from smaller companies. The products will be available through the Loop e-commerce site as well as through retail partners' e-commerce sites and brick-and-mortar locations.
The Loop platform is designed to transform the relationship between consumers and packaging, with the consumer now borrowing the package from the brand owner, much like the milkman model. Through its circular system, Loop offers the convenience of single-use packaging while at the same time removing the responsibility from the consumer of disposing the empty packaging. It gets to the root of packaging waste, rather than trying to manage waste through recycling and other methods after it's been created.
Loop is also proving to have an extraordinary effect on package design. "It's not just about eliminating waste; it's about enabling the future," says Szaky. "What brands have really started to see is that this is a platform through which they can commercialize innovation in packaging that was never possible in a disposable package—it was not even conceivable."
Metal containers for Häagen-Dazs ice cream that keep contents cold, toothbrushes with removable, replaceable heads from Oral B, and a stainless-steel Clorox package that keeps wipes wetter longer are just some of the innovations created for Loop. Enhancing the consumer experience, reimagined packaging for products such as Pantene, Seventh Generation, and Crest transform the products into premium, luxury items.